Holy huevos! Have you heard of a Yoni Egg? No? It's an egg-shaped semiprecious stone that is the ultimate tool for you and your yoni, aka sacred temple aka honey pot aka womb. We just got in a couple of different ones that can and will (I know first hand) help tighten/strengthen your PC muscles, assist you in healing this tender zone, and enhance your sexual journey.
Some other benefits include:
Reconnecting with your body/mind and reclaiming that confidence/healthy groove.

Helping new mothers heal from childbirth.

Producing more orgasms (even intensifies them).

Increasing vaginal lubrication.

Helping those with a weak pelvic floor and urinary incontinence.

Massaging intimate acupressure points from the inside.
Sure, sticking a crystal egg up your goodie bits may not sound appealing. It might be intimidating but think of it as a kegel exercise with a little oomph. Oomph meaning extra weight. Just as weights make strengthening the rest of your body more effective, Yoni Eggs may increase the effectiveness of kegel exercises. If this all sounds too intense for you, just practice kegels until you feel comfortable taking your self exploration to another level.
Let me clear the air. I am not sexually active and have been off balance ever since I got my heart broken earlier this year. I tried this practice to solely feel reconnected with myself and fully in tune. After dabbling into meditation and self healing remedies, I figured "Why not finish off with the sacral chakra?" I have always wanted to try a Yoni Egg and am pleased to share my first experiences with you! This is very private and personal but here we go! I went ahead and chose the Black Obsidian Yoni Egg. I firmly believe that just like adopting an animal, you must vibe with the chosen semi precious stone.
First Try:
I prepared myself by lighting candles, laying down, and practicing basic meditation techniques. Once I was fully relaxed, I began the journey.

My mind couldn't wander anywhere else because the feelings I was feeling were too powerful and REAL. They took over and led me into the present moment. I felt peace.

I noticed that my breaths naturally became deep and full. Muscles that I've never felt contract were truly pumping like Arnold Schwarzenegger pumps iron.
Second Try:
I was excited to try it again then something from my past suddenly resurfaced.

Being in the moment with the feeling of this past lesson lingering made tears roll down my eyes. I was facing something I hadn't thought about in the longest time. It. was. weird. This was a heavy moment.

Breathing was the only thing I could do during this vulnerable time.

I had clarity and ended my session with a smile on my face.

I felt nothing but strength and self love after this session. Heck, I even took myself out to a movie and dinner!
Third Try:
This was my favorite one by far!

Let's just say I did not feel dehydrated…

I felt so alive and tingly all over my body.

The sexual part of the Yoni Egg was present. Who needs a man when you have yourself and a Yoni Egg?! *snaps*
Mind you, I did my sessions for 10-15 minutes long. Some blogs state that you can have the Yoni Egg while you are running, grocery shopping, or dancing. Since it is believed that women store trauma in their womb space, I don't recommend using it during these times. I personally use it as a spiritual healing practice and just like a true yoga practice, it shouldn't be taken advantage of.
TIGER'S EYE STARTER KIT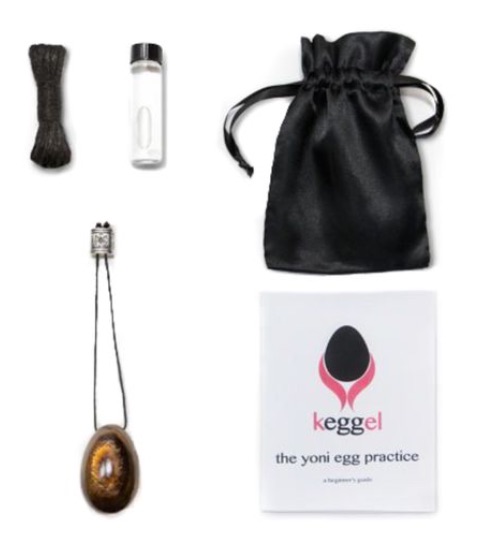 PROPERTIES OF TIGER'S EYE GEMSTONE:
Focuses the mind
Provides mental clarity
Awakens creativity
Assists in resolving problems objectively, unclouded by emotions
Heals psychosomatic illnesses, dispells fear and anxiety
Useful for recognizing one's own needs in relation to the needs of others
Balances yin-yang (masculine and feminine energy)  
Stabilizes mood swings
Imbues us with willpower, purpose, courage and self-confidence
Releases tension.
BLACK OBSIDIAN STARTER KIT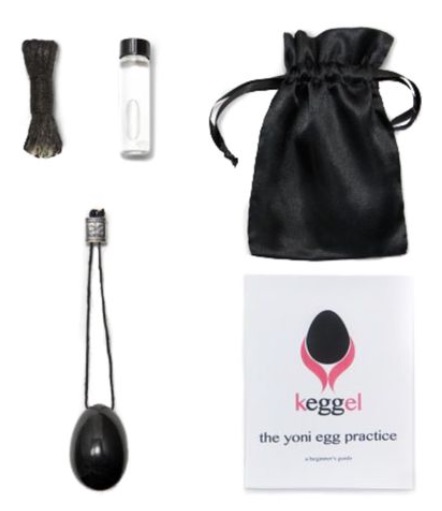 PROPERTIES OF BLACK OBSIDIAN GEMSTONE:
Draws out mental stress and tension
Stimulates growth on all levels: physical, mental, emotional, spiritual
Urges exploration of the unknown and the opening new horizons
Brings clarity to the mind and clears confusion
Helps you to connect with your authentic, true self 
Dissolves emotional blockages and relationship traumas.
PURPLE AMETHYST MASTER SET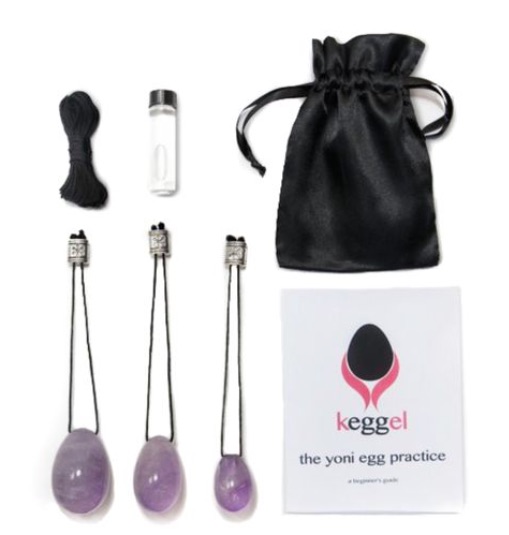 PROPERTIES OF PURPLE AMETHYST GEMSTONE: 
Calms and stimulates the mind.
Helps you feel less scattered, more focused, and in control.
Helps with insomnia.
Alleviates sadness any negativity you're holding on to.
Dispels fear, anger, and anxiety.
Promotes love. 
Boosts production of hormones, and tunes the endocrine system, and metabolism.
"The best thing you can do when practicing with Yoni Egg is turning it into a ritual of self love and self care. The more love you give to yourself and your body the more love you will have to share with others." *
*The blog is not, nor is it intended to be, a substitute for professional medical advice, diagnosis, or treatment, and should never be relied upon for specific medical advice. Consult with your own physician and health team to decide what's best for you. Do not use a Yoni Egg if you are pregnant or wearing an IUD.
Good luck on your journey!
-Xiang